The layette program for Norwalk Hospital by the Woman's Board has been in operation for over fifty-seven years.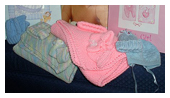 It assists new moms in need with a colorful bag filled with new baby clothing for the baby's first few days at home.
It consists of:
two sleeper outfits
a bib
five undershirts
homemade, knitted blanket and hat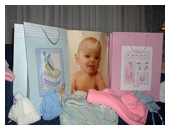 The Woman's Board Layette program also assists new moms to be at the Norwalk Community Health Center on Water Street in South Norwalk. Following a six week baby and mom wellness program, the families gather for a celebration, are awarded a certificate of completion for their efforts, and are treated to a layette, compliments of the Woman's Board.
It is a wonderful pleasure for us to provide this service for our hospital.