SALE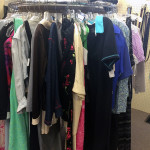 We are having our popular End of Season Clearance Sale:
Monday, August 15 through Saturday, August 25, 2016.
Fall merchandise will be ready for purchase on Tuesday, September 6.
Please note that the shop will be closed from Monday, August 29 through Monday, September 5.
Hope to see you soon...
HOLIDAY CLOSINGS
We will be closed from Monday, August 29 through Monday, September 5.
We will be opened on Tuesday, September 6 with our Fall merchandise.
FREE PARKING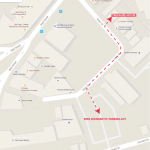 During the current construction that is going on at Isaacs Street – there is free parking available for Treasure House customers and Members at the Leonard Street Parking Lot – right past the Cinema. Sorry for any inconvenience during this construction. Thank you.
Welcome to Treasure House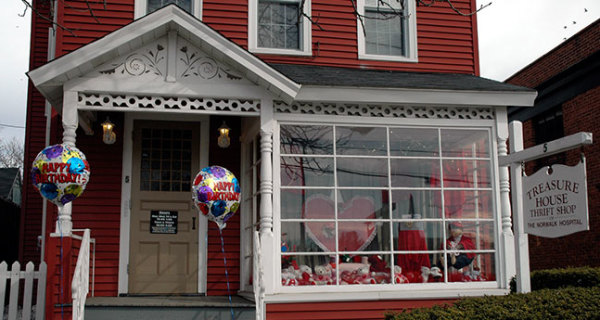 For over forty-seven years, Treasure House Thrift Shop has played a warm and vital part in the life of Norwalk.  Its Mary Poppins Victorian façade at 5 Isaacs Street has invited generations of men and women to come inside – to browse, to chat, to shop, to relax.   Invariably, they have found a genuine welcome inside from the women of the Woman's Board of Norwalk Hospital, because Treasure House was created to be a resource for the whole community.

What does the Woman's Board of the Hospital do?
The Woman's Board exists in order to raise funds for Norwalk Hospital and to support the interest and work of the hospital.

What are the activities of the Woman's Board?
Its primary activity is the Treasure House, a thrift shop whose total profit is donated to the growth and development of the hospital and supportive activities such as the following:
Scholarships for qualified nursing students
Buying equipment for various departments of the hospital, such as therapy pediatrics
Supplying funds for gifts and memorials
Buying layettes for indigent mothers
Support and maintenance of the Little Chapel in the hospital.  We also have a sewing group whose amazing energy supplies much needed linens for use in surgery and other departments.

What are the obligations of a Woman's Board member?
Duties of active members of the Board are as follows:
To attend all meetings*
To give all assistance necessary to any fund raising project of the Board
To interest others in the work of the hospital and the Board
To give such aid as may be required to the various committees of the Board
To give a minimum of 100 hours of service each year to Board activities

*Any qualified active member who misses three consecutive meetings without excuse will be asked to become an associate member.  A member who is unable to attend a meeting may be excused by asking another member to mark her "excused" on the membership list provided at each meeting.

What does a member do at Treasure House?
Everything The members of the Board perform all the necessary work needed to keep the Treasure House functioning at a profitable level.
We exist on the generous contributions from our surrounding community.  Some of our time is spent sorting out the items that are suitable for sale. After we decide we can use an item, it must be priced and then placed on the selling floor or stored for another time or season.  We have guidelines to follow for all of these operations, but we depend on members' good sense of discretion and judgment.
We want all members to participate in all functions, to share in the fun, and to help carry the responsibilities.  We all should be able to be a "marker," a "salesperson", to work the cash register, and do the endless cleaning and sorting.

Who shops at Treasure House?
We have a wide range of customers. Most are from the inner city, but many come from the growing numbers in our community who have learned of our wonderful values in recycled goods.

Is that all there is?
No. As members of a venerable organization we constantly shift roles. We need members to serve as officers of the Board, and we need members to head committees and to take their turn as chairmen and officers of Treasure House.  We call on the many talents of our membership: artistic, organizational, secretarial and financial, and we need members who have knowledge of antiques, furs, collectibles and jewelry.   And we need people who know people, because that's where we find our membership, our customers and our contributors.

What does a member get out of all the time and energy given without compensation and seemingly at times without recognition?
Ask any member…for some reason you get back far more than you give, mostly because of a wonderful sense of community.